Goodyear stands at the pinnacle of drag racing, winning the most championships in both professional and sportsman categories in 2003 in both National Hot Rod Association and in International Hot Rod Association competition. In fact, through the decades that Goodyear has been involved in the sport, the company has seen virtually every major NHRA milestone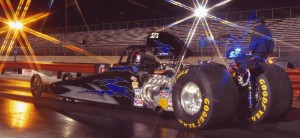 accomplished on its tire brand. Dedication to excellence has been a part of Goodyear's drag racing efforts since the beginning.
For the current season, Goodyear continues as the exclusive tire supplier for the NHRA's Top Fuel and Funny Car classes. The Pro Stock class, which Goodyear has dominated for decades, remains open to other tire manufacturers, as do the sportsman classes.
For prices and ordering call: (606) 780-4700